Ahh the sweet Washougal River, so close to Portland, such amazing places to swim, I really hope I get to explore this fine river at least one more time this summer.  From NE Portland it is an easy 30 minute drive to get to this second Washougal River Swimming Hole at Mile marker 4.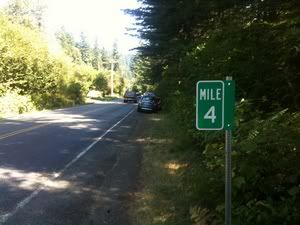 I did not see any signage for needing the "Discover Pass" which was needed at Washougal River Mile Marker 3  which costs $11.50 per day or $35 a year as of 2011. This mile marker spot does not have any facilities.  Always pack all your trash out and consider bringing an extra bag to leave any swimming hole you visit better than how you found it (pick up for those less enlightened than your bad ass self).  NEVER BRING GLASS TO THE RIVER.
A really easy way to get down to the Mile Marker 4 swimming hole is just east of the Mile Marker 4 sign.  Pretty easy path down, similar Washougal River Mile Marker 3 once you get parked because there is pretty limited parking if you can get a parking spot it will not feel too overcrowded.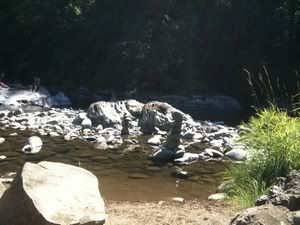 This swimming hole is great, pretty similar feel to Washougal River Mile Marker 3 sans the water fall, but it felt a little more expansive to me.  There are some nice beach areas, some great rocks poking out to sun yourself, a slight current that takes you from the area of the easy path down (we saw another path that was steeper and trickier to get down), west to an area that has a very nice deep area and a ropeswing that you can swing off from a platform that someone built.  I saw a dude swing off it, dive mid stream from the dismount from the rope and nail a perfect landing, beautiful swimming hole moment.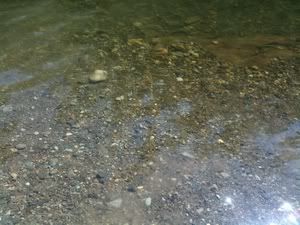 I would recommend this swimming hole if you are on a budget and do not want to spring for a Discover Pass and it is the weekend.  I say this is a good spot for the weekend because believe it or not there are even better places to swim on the Washougal that I imagine would be obscenely crowded on the weekends such as Dougan Falls or Moulton Falls - save those for a "sick day" on a weekday - believe me it is insane enough at these spots during the week as it is.Have fun and be respectful.