Tuesday, June 28th, 2011
Retro Popina High Waist Bikinis: Waistlines are rising to the occasion of style! It's that inch or two of fabric around your waist that really sets apart a regular bikini bottom from a classy swimsuit with style and form.  A higher waistline bikini bottom that contours the hips and emphasizes the narrowing of the waist really makes more fashion sense than any other bottom. 
Here is a High Waist Panel Boy Short in Navy
And the  High Waist Foldover Boy Short
And the Full Coverage High Waist Bikini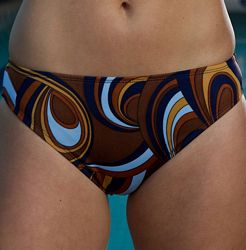 Popina is introducing their high waist bikini bottoms for the 2011 Summer.  Good for matching with a Popina Retro Kelly Bikini Top or a Retro Bandeau Top.  Also, stopping by the website to pick out a new High Rise Swimsuit Bottom to match a top you have at home from last summer can spice up an old look!